Duration: 14 days/ 13 nights
2020 Dates: January 13rd, February 10th, April 6th, June 29th, July 13th, October 5th, October 19th, November 2nd.
2021 Dates: January 11th, February 8th, February 22nd, May 3rd,  May 31st, July 12th, July 25th, August 9th, August 23rd, October 18th,  November 1st, November 15th, December 13th
• Mentioned dates are Day 1 on the Itinerary and six days before cruise departure.
TOUR PRICES:
3 Nights in Quito (Hotel, private transfers and private city tour) + 3 Nights at Napo Wildlife Center + 8 Days/ 7 Nights Cruise aboard the S/S Mary Anne
Seasonal Specials (From July 1st to August 31st and December 1st to 15th): $6,257 per person double occupancy.
Low Season (From September 1st to November 30th): $6,737 per person double occupancy. 
High Season (From January 1st to June 30th): $7,047 per person double occupancy.
Single Supplement: $914 (only for Quito and Napo Wildlife Center) – NOTE: There's no single supplement for the cruise!
NOTE: Additional cost will apply for the following:
The Galapagos National Park Fee and municipal tax: $100 p/person ($50 per child)
Transit Control Card: $20 per person
TIPS for the cruise crew and guide (About $450 p/person).
International flights and Flights Quito/Galapagos/Quito/Coca/Quito are not included
ITINERARY:
DAY 1/ QUITO
Arrival. Reception at the airport and private transfer to your hotel. Later you'll enjoy a private city tour to explore picturesque Old Town Quito, a World Heritage Site with plazas, churches and monasteries from the early colonial times. You'll walk along quaint cobbled streets and visit Plaza de la Independencia (Independence Square) or Plaza Grande, with its Presidential Palace, Archbishop's Palace, the Cathedral, Municipal Palace and nearby you'll visit La Compañía, a Jesuit church overflowing with Baroque art and gold.  You'll also stop at Plaza de San Francisco and its church that have been a center of activity since pre-Incan times when the square was the Tianguez (main marketplace). There you'll visit the church's museum which houses four thousand pieces including sculptures and oil paintings from the Escuela Quiteña. After enjoying a snack at Café Tianguez you'll walk to "La Ronda", one of the first streets of the city known for the artisans' workshops and restaurants. After La Ronda, you will visit one of the most popular viewpoints of Quito: El Panecillo Hill. It is topped by a 41m tall aluminum mosaic statue of La Virgen de Quito that features a crown of stars, angelic wings and a chained dragon.  From the top you'll be able to enjoy marvelous views of the sprawling city of Quito and the surrounding volcanoes in the distance.
Lodging at Boutique Hotel Mama Cuchara or Hotel Patio Andaluz for one night.
DAY 2/ QUITO – NAPO WILDLIFE CENTER
Private transfer to the airport to take your flight to the frontier town of Coca.  Arrival and transfer to the Francisco Orellana Port a brief 5 minutes away from the airport. Here is where the adventure kicks off! At the port you will get on a motorized canoe to travel downstream on the Napo River, the major tributary of the Amazon rainforest in Ecuador. During the trip, you will have the chance to see different birds such as kingfishers, herons, and admire the incredible views of the Amazon jungle unfolding before your eyes. You'll have a boxed lunch to enjoy during the journey. After a two hour ride along the Napo river, you will arrive at the Napo Wildlife Center's dock entrance where you will have a short break and later continue to the lodge on paddle-canoes, as motorized canoes are not allowed within the reserve. This majestic and peaceful dugout canoe ride through a narrow stream will lead you to the Añagu Lake where the lodge is located. You will arrive at the Napo Wildlife Center late in the afternoon. Welcome drink, dinner and lodging. (B, L, D)
DAY 3/ NAPO WILDLIFE CENTER
Today's adventure at the Napo Wildlife Center begins early in the morning. During this second day of the premium Amazon jungle tour you will witness one of the most incredible natural spectacles you will ever see: the parrot clay licks. It takes about an hour to get to the first parrot clay lick. The birds will begin to alight as you arrive between 7:30 to 8:30am. It is a true spectacle of colors as about 11 species of bird, including parrots, macaws and parakeets visit the clay licks every day to feed on the minerals-rich soil.
After observing this stunning natural display, you will hike along the forest trail to visit the Kichwa community of Añangu to spend time with the men, women, and children of the community, and learn about their every-day activities, routines, and ancestral customs and traditions. After saying goodbye to the families, you will continue your adventure. Upon returning to the creek, you will hike for 30 minutes throughout a terra firme forest until reaching the second parrot clay lick. Here you will have another dazzling experience of seeing a great variety of parrots, parakeets and macaws as you eat a delicious lunch. Dinner and lodging. (B, L, D)
DAY 4/ NAPO WILDLIFE CENTER
A delicious breakfast will be served at the NWC restaurant early in the morning. After that you will depart to the Canopy Observation Tower, a high platform from which you will get a close-up view of the most amazing sights of the jungle. The 12-floor tower, built next to a huge Ceiba tree, is about 30 minutes from the lodge within the terra firme forest. There are not enough words to describe it; you will have to see it yourself! Birds that are virtually impossible to see from the jungle floor will pass right beside you. Flocks of vibrantly colored tanagers, blue and yellow macaws, and large toucans fly past in the early mornings.
In the afternoon, after lunch back at the Napo Wildlife Center, you will venture along a terra firme trail to discover the beautiful and mysterious wildlife that hides in the forest interior. There is a great possibility you will spot lizards, different species of monkeys, including the endemic golden mantle tamarin monkey, rare and unique insects, and even some snakes! You will also explore the blackwater Añangu Lake and streams that are home to different species of fish and mammals such as the giant otter, a unique species only found in the Amazon. Dinner and Lodging. (B, L, D)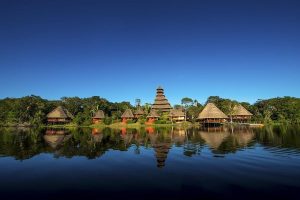 DAY 5/ NAPO WILDLIFE CENTER – QUITO
On this final day, you will depart after an early breakfast to go back to Coca. A ride in a paddle-canoe through the winding streams leads to the docking area and a motorized canoe ride to the frontier town.  During this last excursion the creek may reveal new sights of rare bird species and monkeys. Perhaps a giant otter will show up to wave goodbye to you! Flight to Quito.  Arrival and private transfer to your hotel. Lodging at Hotel Mama Cuchara or Hotel Patio Andaluz for one night. (B)
DAY 6/ SANTA CRUZ ISLAND/BALTRA – CRUISE S/S MARY ANNE-
BLACK TURTLE COVE
AM: Private transfer to the airport and morning flight to BALTRA.
PM: After arriving at Baltra airport we will be greeted by an Angermeyer Cruises representative to then board the S/S Mary Anne and have lunch.
After lunch, you will navigate a short distance to Black Turtle Cove, a large mangrove lagoon on the north coast of Santa Cruz Island. Pelicans and herons roost on the branches while marine dwellers such as green sea turtles or golden rays may cruise right next to the panga as it makes its way through the mangroves. (B,L,D)
DAY 7/ CRUISE S/S MARY ANNE
DARWIN BAY & EL BARRANCO
AM: You'll travel to Genovesa Island and reach Darwin Bay (wet landing), a unique site lined with red mangroves and soft‐haired prickly pear cacti where red‐footed boobies and great frigatebirds perch tamely.
PM: At El Barranco (dry landing), you'll climb the edge of a cliff where frigatebirds, masked boobies, and redfooted boobies nest. The trail will take you to the inner part of the island, populated by holy stick trees and cacti. You will will be seeking out the impressive red‐billed tropicbird amidst Galapagos storm petrels and the endemic short-ear owl. (B,L,D)
DAY 8/ CRUISE S/S MARY ANNE
BARTOLOME ISLAND & CHINESE HAT
AM: Dry landing at Bartolome to climb up the wooden steps and reach the summit of this spatter cone for a most breath-taking panorama of the island's well photographed Pinnacle Rock and views of neighbouring Santiago and many other central islands in the distance. Afterward, you will visit the white sand beach used as a nest site by sea turtles. Bartolome is also a good place to spot the Galapagos penguin.
PM: Less than a quarter of one square kilometer in size, this island gets its name from being shaped like a Chinese hat. The hat shape is best appreciated from the north side. Lava formations can be seen on the western side of the island, formed under the sea and raised upward and for this reason it is possible to observe coral heads on the lava. Be amazed by the landscapes covered by sealions colonies, marine iguanas and Galapagospenguins. (B,L,D)
DAY 9/ CRUISE S/S MARY ANNE
RABIDA ISLAND & CERRO DRAGON
AM: Wet landing onto Rabida's deep‐red beaches to explore the red island's fascinating interior and saltwater lagoon. Darwin's finches, Galapagos mockingbirds and yellow warblers feed off the vegetation. Given the right time of the year you may see brown pelicans nesting on salt bushes that fringe the beach.
PM: You'l head across to Cerro Dragon on Santa Cruz's northwest shore (dry landing) to visit a saltwater lagoon, home to Greater Flamingos, black‐necked stilts and white‐cheeked pintails. Further inland you'll find a fantastic land iguana nesting site. (B,L,D)
DAY 10/ CRUISE S/S MARY ANNE
DARWIN RESEARCH STATION
AM: You will spend this day visiting Santa Cruz Island´s most famous highlights. We will have a dry landing at the dock of Puerto Ayora to then board our transportation and head to the island's highlands. This area, in contrast to the coastal region, has lush vegetation and forest due to the humidity in the higher regions. You will visit one of the ranches of the area where it is possible to see giant tortoises in their natural habitat. As these animals migrate from the coastal area to the highlands andback, the chosen ranch will depend on the presence of the tortoises since they roam free and change locations. This is also a good place to see the Galapagos hawk and barn owl of this island and the surrounding forests are filled of birds such as the vermilion flycatcher or the yellow warbler.
PM: You will enjoy lunch at the ranch to then head back to Puerto Ayora for your
second visit of the day, the Fausto Llerena Tortoise Breeding Center. Here, you will see tortoises from different islands. The animals are found in large semi‐natural pens for their protection, but also to ensure an easy view for the visitors. The pens are divided according to four different stages: eggs, neonates, juveniles (held here until they are mature enough to be "repatriated"), and adults. After this visit, you will have some time to browse the shops in the town of Puerto Ayora before boarding the ship. (B,L,D)
DAY 11/ CRUISE S/S MARY ANNE
SOUTH PLAZA & SANTA FE ISLAND
AM: Dry landing on one of the oldest docks of the archipelago, colorful Plaza Sur is home to vibrant green prickly pears, deep red Sesuvium and coppery-orange land iguanas. Impressive seaward cliffs are excellent for a variety of coastal birds. This is also a great place to observe the adult and pup sea lions swimming along the shores.
PM: After a wet landing on Santa Fe onto a white beach where sea lions are usually resting, you will be looking for the endemic species of land iguana, larger and yellower than land iguanas on other islands. The largest prickly pear cacti in the Galapagos are also found here. (B,L,D)
DAY 12/ CRUISE S/S MARY ANNE
SUAREZ POINT, GARDNER BAY, GARDNER ISLET & OSBORN ISLET
AM: In the morning you will head to Suarez Point, one of the most popular landing sites in Galapagos. The highlights include: sea lions near the landing place, sometimes to be seen body‐surfing in the large breakers; large marine iguanas, with red‐coloured males in the breeding season; oystercatchers; bluefooted and Nazca boobies; Galapagos hawk; Galapagos dove; swallow‐tailed gull; red billed tropicbirds in flight; and three species endemic to Española – waved albatross (present only from April to December), Española mockingbird, and Española lava lizard.
The trail is about 4 km (2 miles) long and the walk takes about 2 hours. It ends in "El Soplador", a blowhole that sprays water some 25m (75 feet) into the air.
PM: You will spend the day in fantastic Española, starting with Gardner Bay (wet landing), an outstanding beach with sea lions, marine iguanas, and the intrepid Española mockingbird.
Close to Española there is a good spot for snorkeling called Gardner Islet.
While snorkeling, there is a good chance playful sea lions will join you. Get ready for more snorkeling at Osborn islet, a great place to observe great quantities of marine life.
(B,L,D)
DAY 13/ CRUISE S/S MARY ANNE – BALTRA – QUITO
AM: This is your last day in the islands. After breakfast we will disembark in Puerto Ayora to take you transport to the Baltra airport, making a short stop to visit the Twin Craters. The Gemelos (twins) are two deep craters located to the side of the road that leads to Puerto Ayora from the other side of the island. These huge holes were probablycreated in a volcanic explosion or by magma chambers underneath the island´s surface. This is also a good place to see the Galapagos hawk and barn owl of this island and the surrounding forests are filled of birds such as the vermilion flycatcher or the yellow warbler. Something worth mentioning is the contrast of the vegetation of the highlands with the arid coastal zones.
After this visit you'll will make your way to the Baltra airport for the flight to QUITO. Arrival and private transfer to your hotel. Lodging at Hotel Eurobuilding or similar for one night. (B)
NOTE: During the cruise, in addition to the land visits there will be a good balance of other activities such as snorkeling, panga rides and kayaking.
DAY 14/QUITO – …..
Transfer to the airport and flight back to the U.S.A. (B)
END OF OUR SERVICES
OUR SERVICES INCLUDE:
– GALAPAGOS CRUISE for 8 Days/7 Nights aboard S/S Mary Anne GALAPAGOS Eastern Islands
– Local bilingual guides for all excursions. Programmed visits to the islands with a certified bilingual naturalist guide
-Lodging for 13 nights (3 nights in Quito at mentioned or similar category hotels + 3 nights at Napo Wildlife Center + 7 nights aboard S/S Mary Anne)
– Snorkel gear (mask, snorkel and fins).
– Kayaks
– Private transfers and excursion in Quito. Group Land and boat transportation and transfers in Galapagos and Amazon rainforest.
– Park Entrance fee to Yasuni National Park
– Meals as mentioned in itinerary: All breakfasts (B), 10 lunches (L), 10 dinners (D). Unlimited coffee, tea, water and natural juices aboard the S/S Mary Anne cruise and at Napo Wildlife Center
NOT INCLUDED IN THE TOUR PRICE:
– International airline tickets
– Flights Quito/Galapagos (Baltra Airport)/Quito. Airfare may vary from about $450 per person. Flights Quito/Coca/Quito that will cost about $250 per person
– Galapagos National Park entrance fee. Galapagos Transit Control Card.
– Wet suit rental fee
– Personal expenses, tips.
– Alcoholic drinks and bottled beverages, and other meals or services not mentioned in the itinerary description.