Patagonia Travel Adventures is excited to offer tours that have been designed with great attention to detail. We are very proud of the quality of services we provide and of the unique life experiences that our travelers gain during our trips.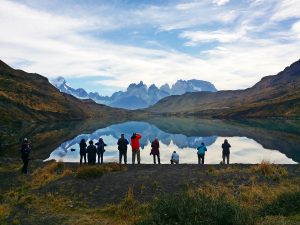 For those travelers that want to enjoy Patagonia independently, but with the assistance of our local expert guides, we offer carefully designed itineraries that two or more people may enjoy on the dates of their choosing.
CUSTOM TOURS
If you are one of those individuals, member of a family or group, that want a particular itinerary, and /or activity, we are always delighted to hear about your personal interests and preferences and to plan a custom tour that will certainly satisfy your wish for adventure.
SMALL GROUP TOURS:
If you are a group of 8 or more travelers we may include a tour escort traveling with the group.
We guide some of our group tours personally; other tours are escorted by expert guides, who live in Patagonia and intimately know the areas you will visit.
You may follow one of our well-planned itineraries on your own preferred travel dates, or we may customize the best tour for you and your group.
In addition, we offer tours to other areas of Chile and Argentina ( Northwest Argentina, Mendoza and Iguazu Falls) as well as Peru and Antarctica.
We are sure you will find one itinerary that will appeal to you.